Royale Coach Club - 2019 Fall Rally
Maine, The Way Life Should Be!
September 5 - 12, 2019


Rally hosts are Anne and Richard Gould, 207-431-2293, and Nancy and Jim McNulty, 207-329-1112.


Bar Harbor Maine and Scarborough Maine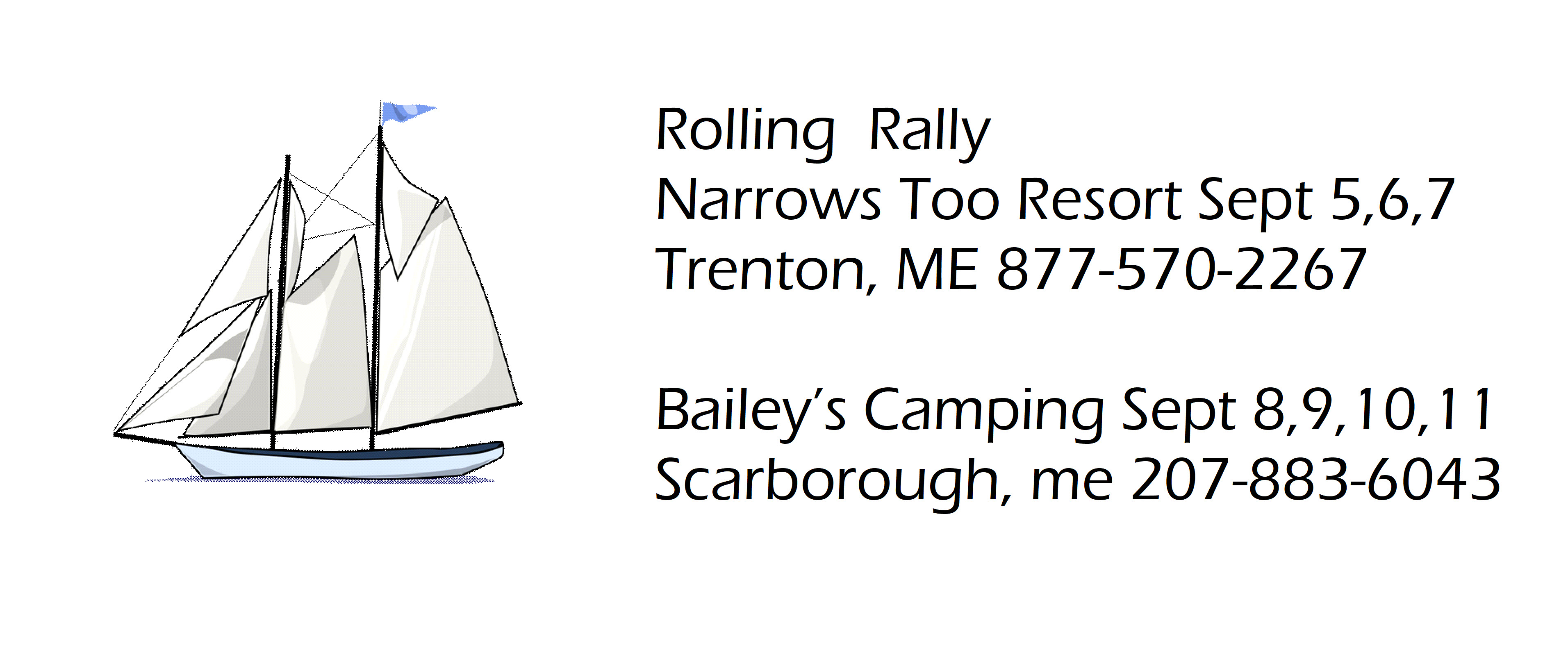 We will explore Mount Desert Island from Narrows Too Campground, in Trenton, ME, where we will stay for 3 nights beginning Thursday, Sept. 5th. Narrows Too Camping Resort will give you a discounted rate for 2 extra nights before the rally if you'd like to arrive early. You only need to call for reservations if you need extra nights.
Narrows Too Camping Resort
1150 Bar Harbor Rd
Trenton, ME 04605
Reservations 877-570-2267
Plans include a Lighthouse and Park Tour aboard a boat (bring binoculars) and a tour of some of the quieter places on Mount Desert Island. If you have a National Park Pass, please bring it with you so you can tour the Park Loop Road in Acadia National Park in your vehicle.
On Sunday, Sept. 8th, we will relocate to Scarborough, ME, where we will be staying at Bailey's Campground for 4 nights. You only need to call for reservations if you need extra nights.
Bailey's Camping Resort
275 Pine Point Rd
Scarborough, ME 04074
Reservations 207-883-6043
Plans while staying in Southern Maine include a wonderful Schooner Sailing excursion and, of course, some delicious lobster!
September's weather in Maine is variable – it can be hot and it can be cool. Please bring layers, especially for the boating activities.
The rally will end on Sept. 12th, which is the departure day.
Thurs, Sept 5th
Arrive & check in (before dark)
5:00 pm Reception at clubhouse
6-9 pm Live Music

Fri, Sept 6th
8 – 8:15 am board bus
9 am arrive Bar Harbor; Breakfast sanwiches handed out at boat
9:30 am – 12:30 pm Boat tour of Lighthouses/Somes Sound, and Acadia National Park Highlights.
Board Bus: Lunch at Asticou Inn and Restaurant; Tour Asticou Gardens
Return to Campground approximately 4 pm

Sat, Sept 7th
8 am – 9 am Breakfast at clubhouse
9 am Royale Coach Club Meeting
Free time to explore Acadia National Park and/or Bar Harbor (bring National Park pass if you have one)

Sun, Sept 8th
Depart to drive to Scarborough, ME – Bailey's Campground
Mon, Sept 9th
7-9 am Breakfast at campground
9:30 Bus departs for Portland Headlight
10-11:30 Explore historic lighthouse and grounds
11:30 Bus departs for Portland Harbor
12:30 Antique Schooners sail to Cow Island; Lobster bake
4:30 Arrive at Portland Harbor
5:30 Arrive at Bayley's campground
Free Evening
Tues, Sept 10th
Breakfast at campground
Free Day
Wed, Sept 11th
Breakfast at campground
10 am Bus departs for Freeport, home of LL Bean
Lunch on your own
3 pm Bus departs for campground
4 pm Arrive back at Bayley's campground
Farewell Lobster/Steak Dinner
Thurs, Sept 12th
Departure day
SPONSORS