Countdown to the event: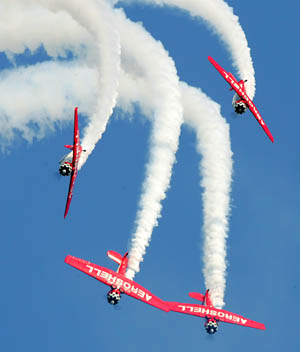 Royale Coach Club members and friends are invited to the great Oshkosh AirVenture this summer, July 27 - August 2. The entire spectrum of flight will be represented, from the new WhiteKnightTwo Mothership "Eve," the latest step in space tourism, to the mammoth Airbus A380, the world's biggest passenger jetliner. Extraordinary aviators will be in Oshkosh, ranging from the pilots of US Airways Flight 1549 to those who built a replica 1909 Wright 'B' Flyer. Outstanding entertainment is also part of the week's action.

EAA AirVenture annually draws participants from more than 70 nations and in excess of 10,000 airplanes, including more than 2,500 show planes. The event includes 800 exhibitors with the latest aviation innovations; nearly 1,000 forums, workshops and seminars covering every aspect of the world of flight; daily afternoon air shows featuring the world's finest aerobatic performers; up-close and personal sessions with top aviation personalities; and the gathering of aviation enthusiasts from around the globe coming home to "aviation's family reunion."

Bob Hansen, our rally-master, has been to this event almost every year since the early 80's. He will arrange for us to meet outside Oshkosh and caravan in together. There is no rally fee; all expenses will be "pay as you go".

For complete information about AirVenture 2009, visit their website at: http://www.airventure.org/index.html

Dry camping is available on the convention grounds for $21/night with a 3-night minimum. There are dump sites on the grounds, and honey wagons are available. There are always plenty of sites available at EAA's Camp Scholler, but you must become a member of EAA to camp there. Campers must pay from the arrival day through the duration of the convention, but you will receive a refund for the days not camped if you leave before the end of the convention. For more information on the campground, go to: http://www.airventure.org/planning/camp_scholler_guidelines.html

For the cost of admission to the event, please take a look at the admission page - http://www.airventure.org/planning/admission.html Daily tickets are $24, a ticket for the week is $104. Spouse daily ticket is $20, weekly ticket is $70. If you buy online by June 15, you can save a little extra http://www.airventure.org/planning/advance_member.html .

We will meet about a 100 miles from the show on Saturday and then go in together on Sunday, July 26. Note that the FMCA summer convention is in Bowling Green, Ohio, July 20-23, and the Prevost Prouds summer rally is July 21-24 in Cheyenne, Wyoming. Both are in the week prior to the air show.

There may be a lot of walking involved. Scooters, golf carts, etc. are not allowed on the flight line or inside the AirVenture grounds, but they are allowed in the campgrounds. There is parking for them before you enter the show grounds, so you can ride them up to the entrance gate. From the south end to the north end where the warbirds park is about a mile and 3/4ths. From the campgrounds to the flight line, it is a mile to a mile and a half. Trams run all day from one end of the grounds to the other. You cannot see everything in one day. There are four large (200 X 200) exhibit buildings plus a number of other buildings that house NASA, Air Force, Forest Service, FAA, etc.

Final arrangements are being made by the rallymaster now. If you would like to attend, call or email Bob Hansen or Graham Ricks as soon as possible.

Bob Hansen - RCH53115@gmail.com - 608-201-3988
Graham Ricks - GrahamR@mindspring.com - 336-708-0324

Feel free to contact either of us if you have any questions.